Eighteen Poems by Peter Kocan
1 . To a Woman Reading The Wind in the Willows
2. Name
3. Cathedral Service
4. The Social Workers
5. Them and Us
6. Dylan & Caitlin
7. Signs
8. The Fathers
9. What It Takes
10. Courage
11. Standing with Friends
12. Poor Me
13. Beijing Massacre
14. A Baby Crying
15. AIDS, Among Other Things
16. To My Godchild, Chloe
17. Seafarer
18. The Calling
See also biographical and bibliographical information at the end of this page.
Click here to read Andrew's reviews of two of Peter Kocan's poetry collections.
To a Woman Reading The Wind in the Willows
Peeping through the door an inch ajar,
I see you curled-up with your favourite book.
I wonder where precisely now you are,
What green, familiar, friendly path you took—
Ignore them, the neurotic and the driven,
Who'd say your book's a trivial escape.
What harm if an imagined land is given
A simpler ethos and a gentler shape?
What fitter story could a grown-up find
Than one which makes uncomplicated sense
Of things like being brave and being kind,
Of virtues so important and immense?
And just as stories help the young rehearse
Their courage at the level they can bear,
They do the same for us—except we've worse
Than boogies in the shadow of the stair.
Our Wildwood is truly dark and deep,
And no adult who knows it will deride
The fact you find it comforting to keep
Ratty and Mole and Badger at your side.
.         © Peter Kocan
Name
The name 'Wendy' was invented by a little girl who died at the age of six.
Margaret Henley never knew
Her singular achievement,
So little time there was between
The birth and the bereavement.
She never knew how wide and far
Her baby-talk would carry,
The future of the funny name
She told to J.M. Barrie.
She said her special word and then
Departed, never knowing
How many little girls would bear
The name she was bestowing.
She only added to the world
One unique and harmless touch.
How many glittering careers
Contributed as much?
.         © Peter Kocan
Cathedral Service
I'm only here because I wandered in
Not knowing that a service would begin,
And had to slide into the nearest pew,
Pretending it was what I'd meant to do.
The tall candles cast their frail light
Upon the priest, the choir clad in white,
The carved and polished and embroidered scene,
The congregation numbers seventeen.
And awkwardly I follow as I'm led
To kneel or stand or sing or bow my head.
Though these specific rites are strange to me,
I know their larger meaning perfectly—
The heritage of twenty centuries
Is symbolised in rituals like these,
In special modes of beauty and of grace
Enacted in a certain kind of place.
This faith, although I lack it, is my own,
Inherent to the marrow of the bone.
To this even the unbelieving mind
Submits its unbelief to be defined.
Perhaps the meagre congregation shows
How all of that is drawing to a close,
And remnants only come here to entreat
These dying flickers of the obsolete.
Yet when did this religion ever rest
On weight of numbers as the final test?
Its founder said that it was all the same
When two or three were gathered in his name.
.          © Peter Kocan
The Social Workers
Hyenas will encourage a stampede
To see which ailing zebra falls behind.
They're nature's social workers, and inclined
To feel most altruistic when they feed.
.         © Peter Kocan
Them and Us
And still the elites betray us every day,
Despite the fact that they need hardly bother,
For they've discovered many an easy way
Of prompting us to betray each other.
.       © Peter Kocan
Dylan & Caitlin
The poignant photograph is one
Of them reclining in the sun —
Their intimacy showing through,
Unposed, unglamorous, but true.
Yet with a tension in it all,
As if they had agreed to call
This little truce in passion's war
Beside the heron-priested shore.
Forever, as the moments pass,
Their shadows rest upon the grass.
These two remain forever caught
In pensive attitudes of thought.
And just before the camera's blink
She might've said, "How strange to think
Our pictured selves will never know
What happens when we rise and go."
"They'll seem to know," he might've said,
"For everything that lies ahead
Will cast its retrospective ray
Upon these phantoms of today."
— Bereft of colour, motion, sound,
Their world is burgeoning around,
The teeming year of Fifty-Three
Whose end he wouldn't live to see.
.          © Peter Kocan
SIGNS
Of the circle of people known to me,
Not one appears to have an easy mind.
The more I look at them the more I see
How this one falters, that one falls behind.
Money, health, careers, relationships,
All areas of life seem under strain.
They all seem fundamentally at grips
With nagging worry, weariness and pain.
I am speaking of merely local grief,
Of little realms of personal despair;
Yet one might notice in a single leaf
The blighting of the forest everywhere.
             from Fighting in the Shade
            © Peter Kocan
.
.
THE FATHERS
A little boy bewildered
I made my way alone.
The world was full of fathers
But none of them my own.
So it was no man's duty
To teach me what he knew,
To help me or defend me
Or guide me as I grew.
But then I learned of heroes
Long gone into the grave;
The legends of the loyal,
The sagas of the brave.
Through history they laboured
For me the friendless waif,
To see that I'd be happy,
To see that I'd be safe.
And in their stern example,
And in their sad renown,
I found the patrimony
That they had handed down.
Those dead men who befriended
A child they didn't know
Were my heroic fathers
Long centuries ago.
             from Fighting in the Shade
            © Peter Kocan
.
.
WHAT IT TAKES
And every man in every generation,
Tossing in his dilemma on his bed,
Cries to the shadows of the noble dead.
—W. H. Auden
For decades they have crowded in my mind,
The Spartans and the Romans and the rest,
Lit by their tragic sunset from behind
And holding out at Duty's curt behest.
But more and more of late I start to see
How I commit the treasons of despair,
Doubting that any duty's left to me,
That anyone would notice or would care.
And in the darkness as I toss and turn,
And cry aloud to any passing wraith,
I understand that it is time to learn
A bit of what it takes to keep the faith—
For too long I complacently assumed
Those heroes perished in a golden glow,
And that they hardly minded being doomed
Knowing their myth would deepen and would grow.
Yet they were men of ordinary earth,
And perhaps each met the end he seemed to choose
In anguished wondering if it was worth
The one and only life he had to lose.
It's one thing to see such heroism
Through the simplifying haze of the years,
Another to perform it at the time
Amid darkness and confusion and tears.
             from Fighting in the Shade
            © Peter Kocan
.
.
COURAGE
For Tracey Kesby and others
I'd thought of it as Epic,
And opposing famous odds,
And attended by a chorus
Of the heroes and the gods.
I'd thought it must be Saga,
And that bravery must mean
The thunder and the lightning
Of a great dramatic scene.
But now I'm growing wiser
And I start to see the way
That courage has its essence
In the ordinary day.
And now I often notice,
In some unheroic face,
The spirit of the ages
And the valour of the race.
             from Fighting in the Shade
            © Peter Kocan
.
.
STANDING WITH FRIENDS
Increasingly it starts to strike me how
We limit friendship to the here and now,
To those we are involved with face to face,
To people of a certain time and place,
To what the fleeting present will allow.
Yet think of the uncounted thousands, too,
Whose flesh and blood and spirit got us through,
Who brought the world along the single track
Which led to where we now stand looking back,
Those benefactors that we never knew.
They were the rulers who upheld the good,
The fighters who defended what they could,
The scholars who kept knowledge half-alive,
All those who had the courage and the drive
To do their duty as they understood.
And many more whose contribution lay
In simply being human in their day,
Who probably had little cause to think
Their ordinary lives would be the link
To us who live a thousand years away.
One can almost see them if one tries,
Those men and women in a quainter guise,
Those dear companions on their faded page,
Whom we, in this peculiar modern age,
Are prompted to belittle and despise.
But I will stand with friends beyond compare
Whose silent bones are littered everywhere,
Who fought and laboured for us long ago
Without the slightest evidence to show
Whether we'd deserve it or would care.
             from Standing With Friends
            © Peter Kocan
.
.
POOR ME
Poor me, one thinks, poor unfortunate me,
Nursing a cold, a migraine, a cut thumb;
Or when one is lost or broken or lonely;
Or if the awaited letter hasn't come.
We call it being wrapped-up in oneself;
And yet, to feel compassionate must mean
That a part of the mind is standing off
And observing the pathos of the scene.
And this emotion, far from being false,
Might just as well be admirable and true
—Seeing yourself somehow as someone else
Who needs a little sympathy from you.
             from Standing With Friends
            © Peter Kocan
.
.
BEIJING MASSACRE
If only they had kept it out of sight,
The way these things are usually done,
They could've murdered hundreds every night
And it would not have worried anyone.
If they had made the victims disappear
Discreetly in the dark by ones and twos,
They could've done the job without fear
That it would cause a ripple on the news.
If only the had had the sense to kill
More tidily, and in the proper place,
Then we in fairness would be lauding still
Their Communism-with-a-human-face.
If they had stuck to the accepted scheme,
Had butchered steadily, without fuss,
The patent good intent of the regime
Would've remained an axiom to us.
But carnage as a Media Event?
That was a mad, unprecedented move.
Their hideous miscalculation meant
We had no option but to disapprove.
             from Standing With Friends
            © Peter Kocan
.
.
A BABY CRYING
When we are born, we cry that we are come
To this great stage of fools
                                                —King Lear
Nine pounds of undiluted blank despair
Shrieks all its tiny force into the air.
O what can ail the little fellow snug
Inside a nice embroidered bunny-rug?
The new arrival surely can't have had
A chance to meet with anything so bad:
He doesn't know a thing about the State,
Or Politics, or History or Fate.
Yet the harried listeners recognise
A just amount of anguish in the cries.
This small philippic from the cradle hurled
Is baby's estimation of the world.
And baby's wise to howl it at the start,
Considering how soon the years impart
A dire sense of being, in the main,
Too deeply implicated to complain.
             from Standing With Friends
            © Peter Kocan
.
.
AIDS, AMONG OTHER THINGS
The wages of sin is death. These words run
With a quiet persistence in my brain,
As though that biblical archaic phrase
Had been precisely meant to diagnose
What's bothering an unreligious man
Like me today. The blasphemy was met
By sins of silence, cowardice and doubt,
And so we muddied what clear light might thresh
The good from the bad or merely foolish
When the consequences begin to hit.
I fear that we have too glibly mocked
For too long in the word and in the act
To hope we've any second chances owed
Or plead extenuation when we're paid
The wages we knew always to expect.
We acquiesce to birth-in-bottles now,
Dissimulate on every law we knew
Was solemn in the covenants we had
With whatever we call Nature or God,
Yet we never think to reap what we sow.
The ills multiply as we unlearn
That ancient wise humility of men
Who saw, beyond the wreckage of taboos,
Despair and madness, hatred and disease—
The promised payment in the promised coin.
             from Freedom to Breathe
            © Peter Kocan
.
.
TO MY GODCHILD, CHLOE
Newborn child, at your side
The long-dead generations crowd
Who wept and sweated to preserve
A light until you'd arrive.
I mean civilisation's wick
That held so long against the dark
And shone a stumbling path clear
Through calamity and war.
Now the darkness gathers fresh
In empires of the lie and lash
Our candle's guttering away
To outcomes we cannot see.
You are already summoned
To the battles of the mind
And hard experience will show
Past any word I offer now.
I have my own sins to face
Of folly and of cowardice,
But yet I say to choose your sides
Without measuring the odds;
As did Plataea, little town,
That sent its handful to join
Those reckless Athenians
Hurrying to Marathon.
             from Freedom to Breathe
            © Peter Kocan
Seafarer
To Hal Colebatch
A heaving deck, a sail unfurled,
The navigator's art,
Will find the measure of the world
And of the human heart.
For the seafarer knows his fate
Depends on judging true
Both what the elements dictate
And what a man may do.
He knows that he must reckon right,
If he's to voyage far,
That balance of the inner light
And of the outer star.
And all his time is ordered by
The vigils he must keep
To steer between the fickle sky
And the unknowing deep.
And these are obligations laid
Alike on you and me,
For more are of the sailor's trade
Than ever put to sea.
               © Peter Kocan
The Calling
This was our professional renown,
That we could tell the Markings of the Beast,
That we could half-depopulate a town
And still assert that witchery increased.
Unfair to see us as demented fools,
The canting loonies of a darker day.
We worked within a sober set of rules
And had our codes of conscience to obey.
Burning for the truth, we only built
A case on what we truly heard and saw.
And if that always pointed to the guilt,
Well, it wasn't innocence we hunted for.
And people were supportive, by and large,
They understood the set-up rather well,
Knew criticism would attract a charge
Of being in complicity with Hell.
Our overriding passion was Concern.
It overrode us everywhere we went.
It drove us on relentlessly to learn
What pimples on a witch's elbow meant.
You wouldn't credit all the pains we took
With pincer, rack, hot iron, ducking-stool.
In all good faith, how could we overlook
The use of any diagnostic tool?
So scrupulous were we in these affairs,
So jealous of a blemish on our name,
No witch ever lacked our tender cares
Or ever went unjustly to the flames—
Our only mistake was to have feared
The Calling might eventually be gone,
But new abominations have appeared
To guarantee it goes forever on.
               © Peter Kocan
---
Peter Kocan was born in Newcastle, Australia, in 1947.  He has published five novels and five volumes of poetry. In 2010 he received the Writers Emeritus Award from the Australia Council for the Arts, an award given for lifetime achievement in Australian literature.
Click here to read Andrew's reviews of two of Peter Kocan's poetry collections.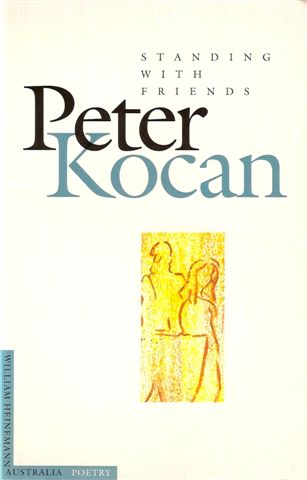 ---
LITERARY WORKS BY PETER KOCAN
POETRY
1. The Other Side of the Fence, 1975
2. Armistice, 1980
3. Freedom to Breathe. 1985
4. Standing With Friends, 1992
5. Primary Loyalties (with Hal Colebatch & Andrew Lansdown), 1999
6. Fighting in the Shade, 2000
FICTION
1. The Treatment, 1980
2. The Cure, 1983
3. Flies of a Summer, 1988
4. Fresh Fields, 2004
5. The Fable of Our Lives, 2010
CONTACT PETER KOCAN
Peter is Andrew's friend. You can contact him through Andrew. Send an email to Andrew and he will forward it to Peter.